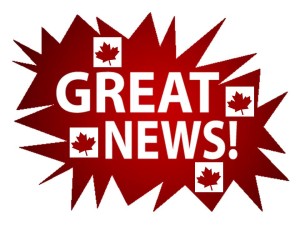 Over the past year, like many others working within the Retail Industry in Canada, I've grown tired of hearing about all the bad news relative to retailers pulling out, closing down or shrinking their store counts here in Canada.
Other than one major 'faux pas' by a discount retailer which doesn't need to be named yet again, the majority of recent store closures have actually been retailers dealing with unprofitable stores in their chain. And although painful for the individuals and areas where these actions happen, these steps are often necessary to keep the overall chain healthy in the long term.
The great news, and what we should be focusing on instead of the 'doom and gloom' of negative reports, is the growing number of new retail entries into Canada and the ongoing industry extensions taking place over the last year.
Just last week Lowes Canada announced their 14 store expansion in Canada as they continue with their steady and measured approach to entering the Canadian market. Lowe's to grow to 54 stores in Canada
Nordstrom is another major US retailer just arriving in Canada again utilizing a 'slow and steady wins the race' approach to improve their chances for success. Nordstrom's plans are to open six stores in Canada by 2017: one each in Calgary, Ottawa and Vancouver as well as three in Toronto. Nordstrom better positioned than Target to take on Canadian expansion
And also in late July Saks 5th Avenue announced their plans to enter Canada in a big way. Initially there will be 2 Saks 5th avenue stores in Toronto, downtown and at Sherway, as well the first tranche of Saks Off 5th outlet stores of 25 locations of Saks Fifth Avenue's Off 5th stores will be opening in Canada by 2019 as announced in May. Saks to open stores in Ontario spring 2016
In addition to the above notable signs of Canadian retail growth and expansion, over the last year several international retailers have also begun to expand their retail footprints into Canada:
Gerry Weber – Gerry Weber fashion's newest name in Toronto
Muji – Japan's Muji aims to open up to eight Canadian stores in five years
Uniqlo – Uniqlo to open first Canadian stores in 2016
Dior – Dior Debuts First Freestanding Canadian Store In Vancouver
And beyond these new retail entrants coming to Canada, a number of chains are also expanding or opening new retail banners in the Canadian market.
Simons – Simons expanding in Canada, defying retail industry woes
Designer Shoe Warehouse – Giant shoe store opening in Saanich, part of DSW expansion
Eileen Fisher – Eileen Fisher expands presence in Canada
Forever 21 – The latest cheap chic retailer is coming to Canada — F21 Red
If the above eleven examples of positive moves in the Canadian retail market aren't enough to convince you retail in Canada is still strong and vibrant, then perhaps you may also wish to consider the potential impact of the current decline in the Canadian dollar.
At 76 cents on the US dollar a lower Canadian dollar can have two positive effects on Canadian retail sales. Firstly, significant reductions can be expected in retail shopping trips to the US by Canadian consumers keeping more of their retail spending dollars at home in Canada.
And secondly, at roughly a 25 percent discount to the US dollar, visiting Canada and our retail stores, now more than ever in recent memory, looks like a bargain opportunity to our more than 320 million neighbors to the south in the United States.
All in all even though there's been retrenchment and reorganization in a number of retail chains in Canada recently, taking such hard decisions can often be healthier for chains in the long term. And media outlets who just focus on and summarize on the negative aspects are doing both the retail industry and the country a disservice.
Much better to focus on the positives and how Canada can be a great place for US and International retailers to expand and also test their omni-channel initiatives in preparation for the growing challenges posed by digital innovation and ubiquity.
Jeff Ashcroft
If you enjoyed this post click here to see All my Posts, Follow or Connect with me on LinkedIn! Also feel free to reach out to me if you'd like to learn more about logistics in Canada and the retail opportunities here! Cheers!