Recently IBM Connect 2014 in Orlando was a great opportunity to catch up with a number of thought leaders and frontline practitioners working every day to bring Social Business to life.
Numerous reports have been emerging showing that anywhere from 50 to 70% of both B2B and B2C sales in coming years will be driven via the web through online and social marketing channels making the movement to a social business approach a must for leading firms.
Over the last few years, social business has really been a buzz word that now has passed through the hype cycle and forward thinking companies are now integrating social business methods directly into their operating and IT plans.
Four years ago the Social CRM Experience Continuum vision was put forward by thought leader Esteban Kolsky as a construct to build towards for social business. Since that time, to me the question has been how to get from the disconnected systems and processes of the day to the customer centric and connected systems and processes needed to deliver to customers as a social business.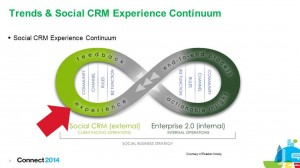 Social is of course all about communication and as social channels continue to grow and proliferate these communications mediums, along with traditional communications forms such as email, messaging, video and social content, all needs to be merged into a unified system of engagement.
At the Connect 2014 event IBM announced some changes including expansion of their IBM Connections offering which merges a wide communications tools into a unified system of engagement. Communications tools such as mail, chat, meetings, office productivity and content capabilities will now become part of the IBM Connections brand in 2014. As part of this effort, IBM is also expanding the Connections portfolio to include high-fidelity, high-definition video based on its Sametime 9 technology.
So what does all of this have to do with logistics and social business customer experience? On the bottom left quadrant of the Social CRM Experience continuum (see red arrow above) is where all the efforts of companies result in outcomes and customer experience delivery. In the case of manufacturing and retail companies, logistics of course plays a huge part in delivering products to stores and customers to make the customer experience a success.
Recent growth of omni-channel interaction by clients has complicated the logistics needs to deliver an optimal customer experience. In almost all cases a significant rethink and reset of how logistics supports the business is required.
The evolution of retail logistics first began with Store logistics and then with the advent of online shopping the addition of e-Commerce logistics (typically run as a separate channel).
Requirement going forward will be to integrate these two streams into an integrated Omni-Commerce logistics model serving both needs of stores and for customer home delivery or pick up needs.
Another evolution in logistics over the last several years has been the centralization of distribution operations which has resulted in many national distribution and e-commerce fulfillment centers. In the near future, two trends will drive many back to deploying regionalized omni-commerce fulfillment operations. The first is the customer requirement for rapid delivery, often Next Day, Moving to Same Day and in some cases ASAP and the second is push to reduce carbon footprint of companies, 75% of which is driven by supply chains and centralized networks have the highest carbon output. Look for consumers to drive this trend by demanding their retailers and e-tailers minimize the environmental impact of the logistics supporting their customer experience.
To see my thoughts and approach for Omni-Commerce Logistics and the impact on Social Business Customer Experience you can check out my presentation from the event here: SocialBuzzChatJeffAshcroftConnect 2014
As noted above and validated in the IBM Connections approach, the Systems of Engagement are already beginning to be merged from a multi-channel communications perspective. Next, once a firm modifies the logistics operations and processes to deliver on a regional Omni-Commerce Logistics basis, the final step will be to then connect the unified System of Engagement with the supporting System of Record in order to deliver a completely integrated and sustainable social business customer experience.
Jeff Ashcroft